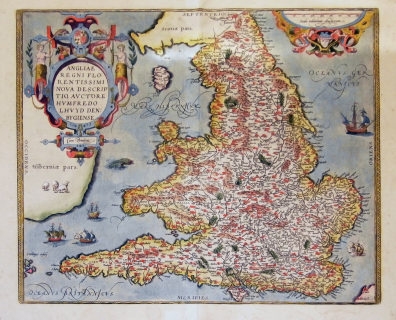 ENGLAND & WALES by Ortelius, printed c.1598
Superb 16th century copperplate engraved map, printed on handmade paper with bold hand colouring. French text en-verso.
​Map Size: 19½" x 14½" (495mm x 370mm).
Condition: one small repair to the bottom of the centrefold.
​CLICK IMAGE TO ENLARGE. SOLD
---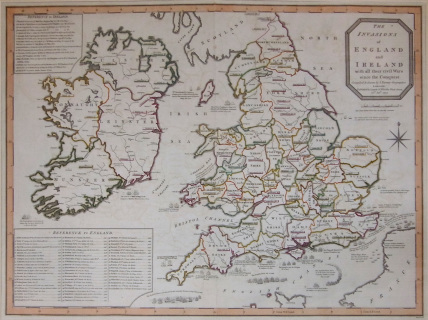 The INVASIONS OF ENGLAND AND IRELAND, by Laurie, printed c.1797
Copperplate engraved map printed on handmade paper with hand colouring. 18th century, map based on the 1607 John Speed 'Invasions' map. Map size: 17¼" x 23" (440mm x 585mm).
Condition: major repairs the fold.
CLICK IMAGE TO ENLARGE.

---
---
---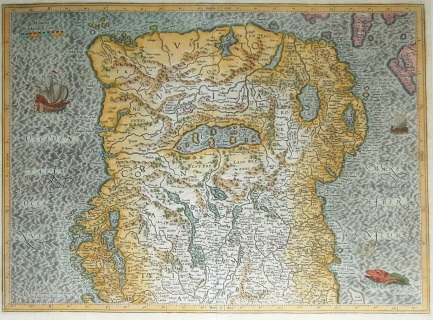 IRELAND by Gerard Mercator, printed in c.1627
Copperplate engraved map printed in c.1628 on quality handmade paper. With good hand colouring and a superb sea monster.
The map measures 18½" x 13½" (370mm x 470mm).
​Good condition: 3" repair to base of fold (not obvious from the front) and one pinhole top left.
CLICK IMAGE TO ENLARGE.

---
---
---
---
We have a lot more maps in stock: please ring the shop on 01225 446097,
e-mail from the CONTACT US page, or drop in if you happen to be in Bath.