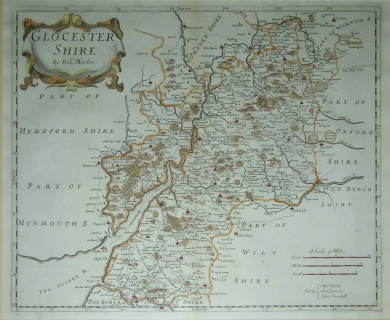 GLOUCESTERSHIRE by Robert Morden, printed in c.1695
Fine copperplate engraved map printed on handmade paper and hand coloured. Good strong engraving, with inserted letter 'u' in title (only on first editions of this map. Map size: 17" x 14¾" (440mm x 375mm).
Very good condition
CLICK IMAGE TO ENLARGE. ​
---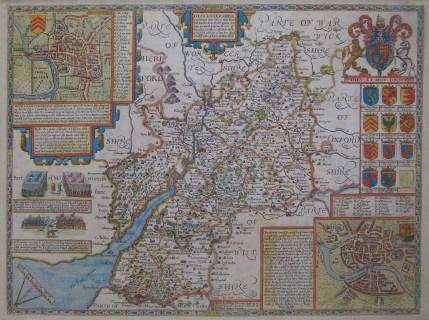 GLOUCESTERSHIRE by John Speed, printed c.1676
Decorative copperplate engraved map, printed on handmade paper, hand coloured. English text en verso as per issue. Town plans of BRISTOL and GLOUCESTER. Map size: 20½" x 15½" (520mm x 395mm) + good borders.
​Good condition: repairs to the centrefold.
CLICK THE IMAGE TO ENLARGE SOLD
---
We have a lot more maps in stock, please ring the shop on 01225 446097,
drop in if you happen to be in Bath, or e-mail from the CONTACT US page.