LONDON by Edward Weller, printed c.1863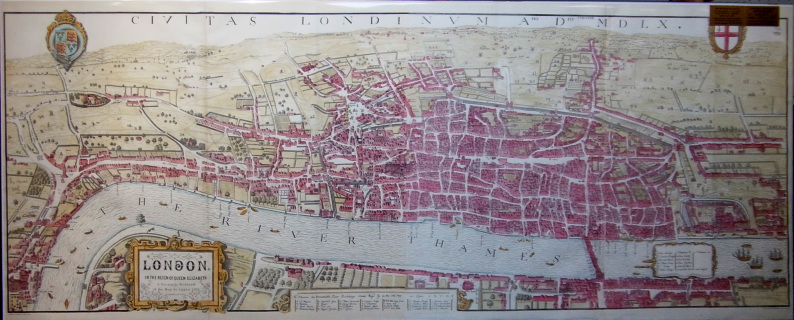 Superb large panoramic view of ELIZABETHAN LONDON.
Printed on early machine-made paper from a steel plate engraving. Excellent hand colouring. Size: 19" x 47½" (490mm x 1200mm). Two sheets joined with minimal discrepancy. Very good condition. CLICK IMAGE TO ENLARGE.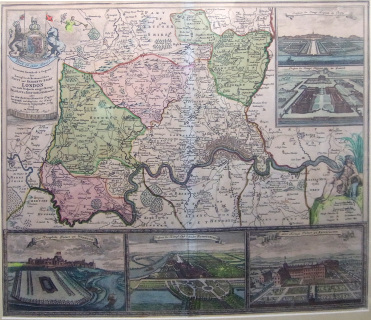 MIDDLESEX [& LONDON] by Homann, printed c.1742
Large copperplate engraved map printed on handmade paper, with good hand colouring. Detailed graphics of WINDSOR, HAMPTON COURT, KENSINGTON etc. German text.
Map size: 19½" x 23¼" (495mm x 590mm).
Good condition: 5" repair to centrefold, one pinhole.
CLICK IMAGE TO ENLARGE.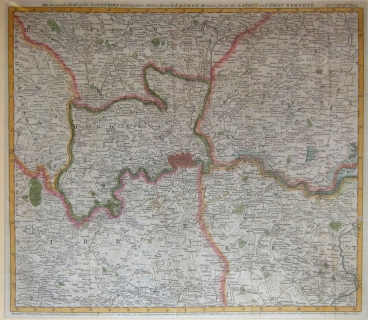 Twenty-Five Miles Around LONDON by Thomas Kitchin, printed in c.1786.
Title: 'An accurate map of the countries twenty-five miles around LONDON, drawn from the latest and best surveys'. This splendidly detailed, 18th century copperplate engraved map was printed on handmade paper and has good hand colouring.
Map size: 16" x 15½" (410mm x 395mm).
Generally in very good condition: one small repair to left border (off image). CLICK IMAGE TO ENLARGE.

We have a lot more maps in stock, please ring the shop on 01225 446097,
drop in if you happen to be in Bath, or e-mail from the CONTACT US page.