---
AUSTRALIA, NEW ZEALAND etc. by Gall & Inglis, printed in c.1851
Title: Gall & Inglis' Map of the Atlantic Islands 1850...
Large steel plate engraved map printed on machine-made paper, with good hand colouring. 22" x 17½" (445mm x 560mm).
​Good condition: repairs to the centrefold.
CLICK IMAGE TO ENLARGE.
---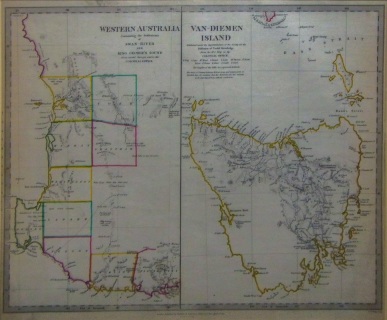 WESTERN AUSTRALIA & VAN DIEMEN ISLAND by The S.D.U.K. printed in c.1844
Detailed steel plate engraved map on early machine-made paper. From the Society for the Diffusion of Useful Knowledge, this map covers Western Australia and Tasmania on a divided page. The maps include their original, outline hand colouring. Map size: 16" x 13" (410mm x 330mm).
Very good condition. CLICK IMAGE TO ENLARGE.

We have a lot more maps in stock, please ring the shop on 01225 446097,
drop in if you happen to be in Bath, or e-mail from the CONTACT US page.