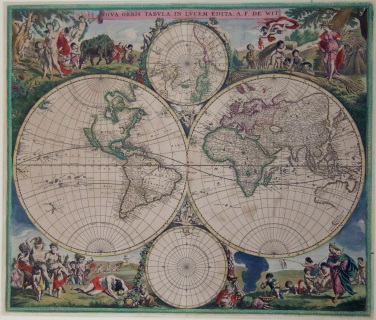 THE WORLD by Frederick de Wit, printed in c.1680
Title: NOVA ORBIS TABLA IN LVCEM EDITA A.F. DE WIT...
Extraordinary copperplate engraved double hemisphere map printed on handmade paper, with superb hand colouring. Dutch text en verso.
Map size: 22½" x 19" (585mm x 490mm).
Good condition: small repair to centrefold, some very minor staining in places. CLICK IMAGE TO ENLARGE
---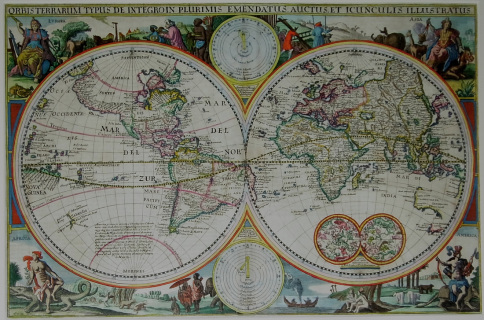 The World by Visscher, printed in c.1660.
Beautifully illustrated, hand-coloured copperplate engraved map printed on quality handmade paper. Numerous figures and scenes, north and south polar charts and celestial figures insert. Map size: 19" x 12½" (485mm x 325mm). German text en verso.
Condition: Repairs to top of the fold, 1 pinhole, some age toning in places. CLICK IMAGE TO ENLARGE. SOLD
---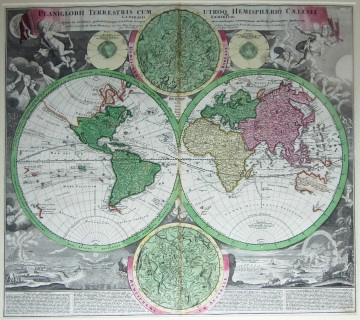 THE WORLD by Homann, printed c.1734
Title: PLANIGLOBII TERRESTRIS CUM~UTROQ HEMISPH
ÆRIO ...
Large copperplate engraved map, printed on handmade paper with original hand colouring, spectacular largely uncoloured cartouches, and samaller globes showing alternative views of the continents, and the poles. Latin text. Map size: 19" x
21½"
(485mm x 545mm).Good condition: one 4" repair + age toning to the fold.
CLICK IMAGE TO ENLARGE.
We have a lot more maps in stock, please ring the shop on 01225 446097,
drop in if you happen to be in Bath, or e-mail from the CONTACT US page.