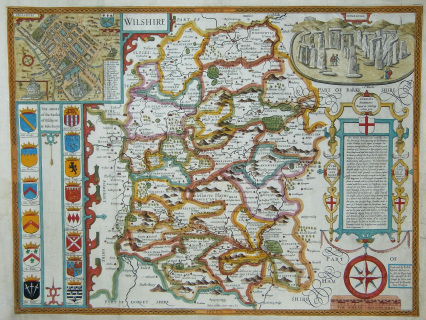 WILTSHIRE by John Speed, printed in c.1627
Copperplate engraved map, Sudbury and Humble edition printed on handmade paper with strong hand colouring. Unusually, no text en verso. Town plan of SALISBURY and a superb graphic of STONEHENGE. Map size: 20½" x 15½" (520mm x 395mm).
Very good condition.
​CLICK IMAGE TO ENLARGE SOLD
---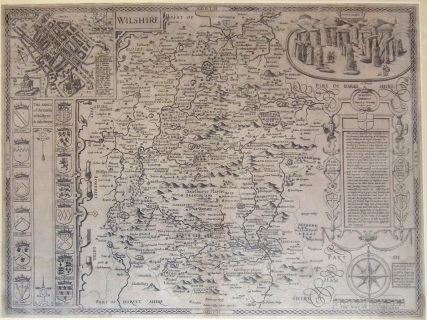 WILTSHIRE by John Speed, c.1627.
Copperplate engraved map, printed on handmade paper, uncoloured. English text en verso. Town of SALISBURY
and a superb graphic of STONEHENGE.
Map size: 20½" x 15½" (520mm x 395mm).
Good condition: Significant repairs to the centrefold, small repair to left border, printer's crease top right, some staining. CLICK IMAGE TO MAGNIFY. SOLD
---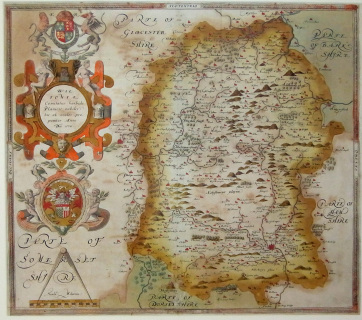 WILTSHIRE by Christopher Saxton, printed in c.1579
First ever printed map of Wiltshire. Stunning 16th copperplate engraved Saxton county map, printed on handmade paper with exceptional ORIGINAL hand colouring. No text en verso, multiple fold edition. Map size: 16¼"x 19" (410mm x 485mm).
Condition: bottom border typically restored, also repairs to base of fold and some age toning in places. CLICK IMAGE TO ENLARGE. SOLD
---
We have a lot more maps in stock, please ring the shop on 01225 446097,
drop in if you happen to be in Bath, or e-mail from the CONTACT US page.